Cal Pigat
Cal Pigat is an authentic apartment in the middle of the picturesque village of Miravet. The apartment is suitable for up to 5 people and is an excellent base for hikers, cyclists and lovers of natural beauty. Due to its central location, the restaurants, bars and shops are all within walking distance. Cal Pigat has an excellent location for trips to the national nature reserves Els Ports and Delta d'Ebre.
Cal Pigat
Cal Pigat is an authentic apartment in the middle of the picturesque village of Miravet.
The apartment is suitable for max. 5 people and is an excellent base for walkers, cyclists and lovers of natural beauty. Due to its central location, the restaurants, bars and shops are all within walking distance. From the spacious living room you have a beautiful view of the unspoilt nature and the mountains that surround the village. The apartment has central heating, which makes it nice to stay in the cooler months. The pleasant square of Miravet, with a view of the Templars Castle and the meandering Ebro, invites you to long evenings to enjoy the delicious wines and delicious tapas. You should certainly not miss a visit to the local potter Ferran. 
Cal Pigat Cal Pigat has an excellent location for trips to the national nature reserves Els Ports and Delta d'Ebre. The wine cathedral in the nearby village of Pinell de Brai is also worth a visit, where you can also enjoy a delicious meal in the restaurant of the same name. You can take the ferry to the other side of the Ebro, from where you can continue your journey of discovery to Ginavet, Rasquera or Móra d'Ebre, each with its own charm and culture. A little further away but certainly worthwhile are the beaches of Sant Carles de la Rapita and El Perelló Mar with its many small bays.  

Bedrooms & Bathroom



| | | | | | | | | | |
| --- | --- | --- | --- | --- | --- | --- | --- | --- | --- |
| | Bedroom 1 | | Bedroom 2 | | Bedroom 3 | | Bathroom | | |
| • | 1x double bed | • | 1x double bed | • | 3x single bed | • | Toilet | | |
| • | Closet | • | Closet | • | Closet | • | Bath/shower | | |
| • | Chest of drawers | | | | | • | Washing basin | • | |

Facilities



| | | | | | | | | | |
| --- | --- | --- | --- | --- | --- | --- | --- | --- | --- |
| | Living room | | Kitchen | | Outside | | Various | | |
| • | Sofa | • | Fridge/Freezer | • | Central location | • | Central heating | | |
| • | Comfortable chairs | • | 4-pit  gas stove | • | Private parking | • | Bedlinnen | | |
| • | Dining table & chairs | • | Oven | • | Drying lines | • | Bathlinnen | | |
| • | TV with channels | • | Microwave | | | • | Kitchen linnen | | |
| • | WIFI | • | Dishwasher | | | • | High chair | | |
| • | DVD player | • | Coffeemaker | | | • | Cot | | |

Distances



| | | | | | | | |
| --- | --- | --- | --- | --- | --- | --- | --- |
| Supermarket | | Food & Drink | | Sea & Beach | | Market days | |
| Dia Pinell de Brai | 5 km | Moli de Xim | 10 mtr | Miami Platja | 40 km | Miravet – zaterdag | 10 mtr |
| Esclat Mora La Nova | 6 km | Pizzo | 50 mtr | Perello Mar | 45 km | Mora Ebre – vrijdag | 7 km |
| Mercadona Mora Ebre | 9 km | Le Loup | 7 km | St Carles de la Rapita | 60 km | Tivissa – dinsdag | 12 km |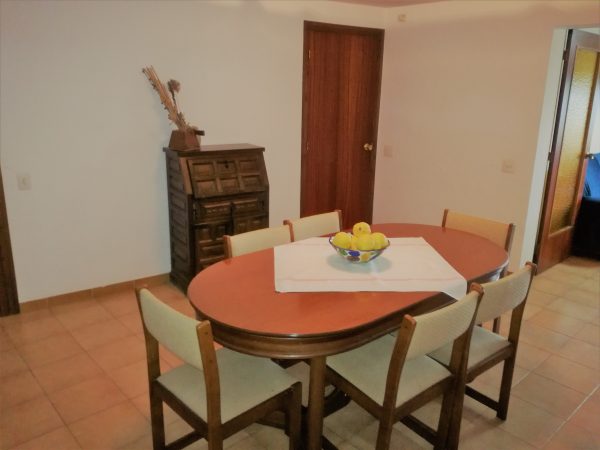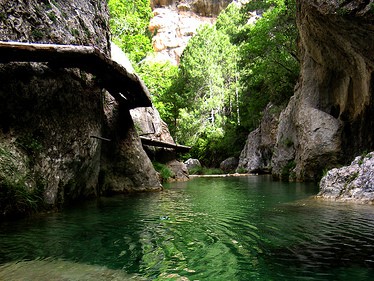 Costa Dorada
The Costa Dorada (in Spanish) or Costa Daurada (in Catalan) is a 216 kilometer long coastal region in Catalonia. The coastal region covers the entire province of Tarragona up to the delta of the river Ebro.
Behind the name lies a large part of the coast of the province of Tarragona, which runs from Cunit to Alcanar. The 'Gold Coast', although owing its name to the color of its beaches, the widest in all of Catalonia, the area has, in addition to beaches, also mountains and flat inlands. It is a region with a beautiful landscape and a very rich history, with famous tourist centers such as Salou or Cambrills, the theme park Port Aventura, monumental inner cities like those of Tarragona, important monasteries such as Poblet and Santes Creu, and with some of the most important Roman treasures of Spain, including mosaics of the Centelles mausoleum, the Arco de Berà gate or the Torre de los Escipiones tomb.
In the southern part of the Costa Dorada lie the towns of El Perelló, L'Ametlla de Mar and L'Ampolla, where most houses of 123casitas are located. Around these villages you will find several bays and beaches of coarse sand surrounded by greenery. These spots are unspoilt and relatively quiet, even in high season..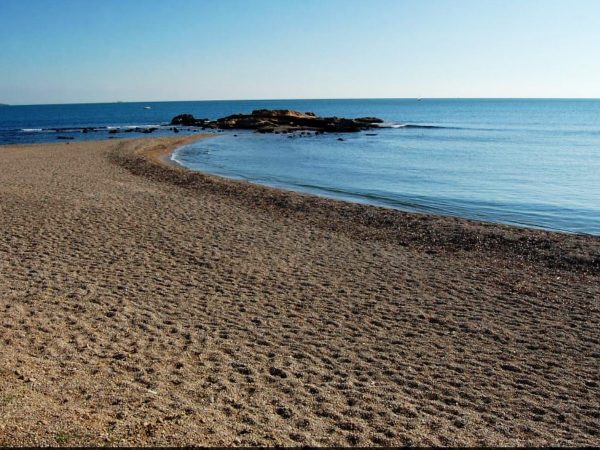 A little further to the south lies the river delta of the river Ebro, which flows into one of the most interesting natural areas on the Spanish Mediterranean coast; National Park Delta del Ebre. The fertile lands of this delta now serve partly for rice culture and partly as a reserve for the conservation of the richly varied bird population. The reserve is foraging area for about 260 bird species and because of the sand barriers that form a horizon of nothing but sand and sea, this reserve is a true paradise for the bird watchers, hiking enthusiasts and nature lovers. From this reserve you can also make the crossing to the island of Buda. The Costa Dorada ends in Alcanar where you will find the restored and very interesting Iberian village of Moleta del Remei..
Sports 
In the region especially hiking is very popular. The mountains are ideal for routes on foot, on horseback or on a bike and of course for mountaineering (on Montsant or the passes of Tortosa-Beceite) or adventure sports. Furthermore, in the region you will find plenty of opportunities for diving, windsurfing, surfing, water skiing, boat rentals etc.
Flora and Fauna
In this area the National Park Delta del Ebre stands out above all else in terms of beauty and the presence of the various animals. But also worth visiting is the park Sama, north of Cambrils. This park has 20 hectares of beautiful gardens and an artificial pond which is very picturesque and is particularly refreshing on hot summer afternoons. More inland, near Flix, we find some interesting natural areas, such as Lake Flix, suitable for fishing and water sports, or the area of Les Sebes, with poplar forests, reed beds and a great wealth of birds.
Things to do
During the day you can spend your day in the natural parks and zoos in addition to the swimming pool or the beach. But you can also visit the theme park and attraction park Port Aventura and the accompanying water park Costa Caribe. For shopping to souvenirs can go to various places: Tortosa, Reus, Tarragona, Barcelona and Valencia are all within easy reach. In the Costa Dorado especially the wine bag of goat leather, ironwork, pottery, embroidery and baskets are typical local products.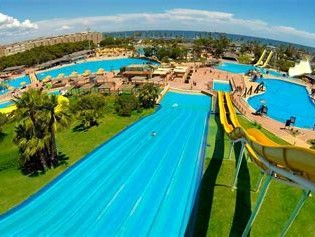 Gastronomy 
The Costa Dorada has a very complete and varied cuisine, characterized by both the ingredients from the sea and those from the inland, with delicious pastries and wines. The Tarragonese kitchen always has something festive, like the calçotades, a tender onion that is roasted on a large fire, and then with the fingers is being stripped of the outer shells, dipped in sauce and eaten immediately.
Typical dishes and sauces are; xató (letuce with olives, anchovies, stockfish and tuna), all i oli (garlic sauce), paella (rice with fish or meat) and more inland, the food is firm and abundant, based on mutton or grilled sausage…
In and around Miravet traditional festivals and events take place every year, such as the blessing of all the animals on Sant Antoni in January, the big cherry festival in June with gigantic paella, cherry spitting and a ball; festivities in August in honor of St. Dominic, patron saint of the potters, in October the festival week in honor of the patron saint of the village, Our Lady of Grace; on September 11th – the national holiday of Catalonia – and much more.
Another suggestion is a visit to the 3Cs: the Castell of Miravet, the Cooperativo of Pinell de Brai and the Coves (caves) of Benifallet. For those who love history, the route of the Domus Templi (the Templars' houses) is highly recommended. Both routes take you along the Ebro, through several characteristic Catalan villages, where you can stop for beautiful views and panoramas, exquisite tapas and mouth-watering local wines.Furthermore, a half hour drive away is the national nature park 'Els Ports', with numerous hiking trails where you will find wild goats, eagles, bulls and all sorts of other flora and fauna..
The mountain villages such as Paüls, Arnes or Horta de Sant Joan, the natural paradise where Picasso found inspiration, are certainly worth a visit. In the villages of Mas de Barberans or Alfara de Carles, among other things, locals still perform an old craft in which daily objects are made from vegetable fibers, such as baskets or kitchen utensils.
El Priorat belongs to Spain's best wine regions. The grapes grow here on steep slopes up to 700 meters high and have to deal with cold winters and dry summers. It is a very beautiful area with small and seemingly quiet villages where, however, behind the scenes with great love, care and dedication work is being done on excellent wines and cavas such as Freixenet and Corendiù. In addition to wine tasting in the various wine cathedrals, a visit to the Serra del Montsant Natural Park is highly recommended. The park has a network of well-navigable paths where you decide how long and heavy the route will be. You hike along green hills, wooded with oaks, poplars, eucalyptus and strawberry trees. Deeply incised canyons alternate with vineyards and olive groves. 3 long hiking trails run through the park, one of which is also suitable for smaller children.
Activities
Miravet is an authentic, Spanish village full of history. The Templar Castle of Miravet is located above the village itself. At the foot of the mountain there are a number of restaurants with a large terrace where you can enjoy the typical tapas and wines from the region. You can also kayak and canoe on the Ebre. Everything you need is available in and around the village, such as local shops, cafes, restaurants, bakeries, green shops, potters, etc. An ice cream on a terrace or eating out is still cheap here.
There is a lot to do and see in the area. There are three major nature reserves: the Ebro delta, Els Ports and Priorat where you can walk and do activities. If you want to go to the city then Reus, Tarragona, Barcelona and Valencia are not far away. And especially for the children there is Port Aventura at Tarragona, the sea aquarium in Valencia, honey collecting at El Perelló or the ecological museum in the Ebro Delta, where you can also go canoeing. Or car-free cycling along the Via Verde. Of course the beautiful beaches and creeks. And much more.
Visit the 3Cs: the Castell of Miravet, the Cooperativo of Pinell de Brai and the Coves (caves) of Benifallet. The Templar Castle of Miravet may not be missing from your list of favorites. In the cellar of Pinell de Brai you can also enjoy delicious food as well as wine tasting. The caves of Benifallet are truly breathtaking and the perfect getaway for cooling off on a hot day.
For those who love history, the route of the Domus Templi (the Templars' houses) is highly recommended. Visit the various Templar Castles of Montsó, Gardeny, Miravet, Tortosa and Peníscola and immerse yourself in the world of the crusaders.
You can go hiking along the GR99, a centuries-old path that crosses the river Ebro and runs from its source in Fontibre (Cantabria) to the estuary in the natural park of the Delta del Ebro.
One of the best ways to get to know the river Ebro and its surroundings is with a canoe. One of the most special parts is from Miravet to Benifallet, because it is possible to enjoy another perspective of Miravet and its hanging houses, to see the old medieval mill and the spectacular landscape of the passage of Barrufemes between forests and mountains .
Leave Miravet by ferry – from the picturesque village of Miravet you have a great base to the beautiful surroundings. You can travel by car or cross the Ebro by ferry and drive along the villages at the Ebre, to the Els Ports for a visit to the beech Faig Pare, a walking tour through the mountains, swimming in the nature basin of Beceite and so much more.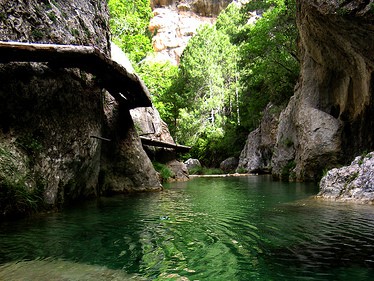 The Rock paintings of Cabrafeixet and the Cave of Mallada – After a beautiful hike in the mountains (sturdy shoes needed!) you will find the ancient drawings of Cabrefeixet. If you follow the path further, you will automatically reach the caves where – with a little bit of imagination- you can see the cooking fires and sleeping places of the primitive people.
Honey museum MelMuria  – A tour through the honey museum can be done independently thanks to the audio material in 5 languages. You can visit the beehives in the countryside or follow a workshop for instance to make wax candles or honey cakes.
Font de Tita – A hike of about 6 km from the village of El Perello takes you to the natural source of Font de Tita, a source that provided the villagers with water since the Middle Ages.
Mirador del Delta – Panoramic view over the Deltebre – At about 8 km from El Perello you have a spectacular view over the Delta. The road there is completely paved, so you can go there by car, bike or just walk there.
   
The beaches – The creeks and beaches in this region are located at a slightly further distance, but are perfect for lazing, snorkeling and enjoying a whole day. There are the beaches of El Perelló Mar and Ametlla, still untouched and not overpopulated. You can of course swim, but also enjoy snorkeling, catching crabs and lobsters among the rocks, looking for shells and on most beaches or in the neighborhood you can get drinks, ice creams and snacks. The beaches of Miami Platja are more in the tourist area of the Costa Dorada and are therefore more touristy and busier visited.

   
Via Verde del Baix Ebre – The Via Verde is a 25 km long hiking and cycling path over an old railway line. You pass through narrow valleys across the restored railway bridges and through many tunnels that give off coolness. You can rent bicycles at various places on this route from rental companies, which you pick up at your agreed time and location and bring you back to your starting point. You decide yourself the distance you want to travel and how much time you want to spend taking that route. The route goes almost exclusively downhill, so even for less avid cyclists this is highly recommended. The road is only accessible for cyclists and pedestrians. Along the route there are several villages where you can stop along the way to rest, eat your picnic or order a tasty Spanish snack in one of the 'roadside restaurants'.
Natur park Ebro Delta is about 320 km². Here you will find Spain's rice fields, extensive natural beaches, salt pans and lagoons full of birds. It is a must for nature freaks, bird watchers, water sports enthusiasts and wild campers. You can not get anywhere by car. The area is best explored by foot, bycicle or by boat. You can book different types of tours, there are also a number especially for children.
Natur park Els Ports – You can see wild goats and even bulls when you go to the mountains of Els Ports. There are several areas that you can visit. Cim de Caro is a viewpoint that will deliver spectacular images. The path to it runs through the woods and is also easily accessible for children. Also nice is a visit to Faig Pare, Father Beech, a monumental tree with very large uncovered roots. Father Beech can be found in the nature reserve of La Fageda dels Ports.
   
For water fans and sports enthusiasts… there are plenty of activities in the region: kayaking, canoeing, diving, paddle boarding, snorkeling, jet skiing, surfing, kite surfing, sailing, etc. etc
Jumpland Aventura Ecologica – Cambrils – Half an hour's drive from El Perello is the ecological climbing park Jumpland. The climbing park is set up for all ages. There are 3 circuits, 1 of which is also suitable for children starting age 5. For every age an exciting trip through bridges, slopes, ropes, swings and stairs at various heights ranging from 1.15 to 11 meters.
   
Port Aventura – For the little ones there is Sesamo land including a monorail with small planes, Tami Tami the little roller coaster, a lot of Sesame Street figures, a big Fairy Tale Tree and a jumping water jet.
In Angor What do you sail with boats through a beautiful view of the famous temples of Angkor Wat in Cambodia. Where you shoot with water pistols on different targets, and on people in other boats.
In the Mexico section you will find El Diablo, Tren de la mina. In other words, the devil's mines train. This roller coaster train drives through the mine with a lot of noise, climbing no less than 3 times. A relatively long ride, with lots of turns and shaking, but not too intense.
Thrill ride seekers are well catered for in Port Aventura: the Dragon Kahn, a long roller coaster with no less than 8 inversions, so eight times over! Loops, corkscrews, etc … Then the Shambala, the highest roller coaster and the fastest in Europe !! In the Furious you will be launched in 3 seconds to a speed of 135 kilometers per hour. Also in the Wild West there are several wooden roller coasters: the Tomahawk and the Stampida.
In the Wild West you will also find the Grand Canyon rapids where you go in a round boat over the river full of waterfalls and rapids. The Silver River Flume with tree trunks and a village complete with saloons and shops with wild-west stuff. There is a building where shows are performed.
New from 2017: Ferrari Land – Visit the Ferrari Land Gallery, experience a virtual F1 and the virtual GT Experience, survive a real free fall in the Free fall tower; test your stress level in the Pit stop Simulator and much more.
The sea aquarium in Valencia – The Oceanogràfic is the largest aquarium in Europe with more than 500 animal species and 40,000 animals. Walrus, seals, dolphins, penguins, crocodiles, turtles, jellyfish …. You can find them all in the 12 different zones in which the park is divided. You can also take a look behind the scenes, become a trainer for a day or swim between the sharks (this last activity is bound by strict rules) …. The aquarium is about an hour and a half away from El Perello, but is definitely worth it!
Tuna Tour – You start with a boat tour on a catamaran, where you get an explanation about tuna as you head towards the large swimming pools where hundreds of tuna await you for the most exciting adventure: swimming with 2 meters long tuna!!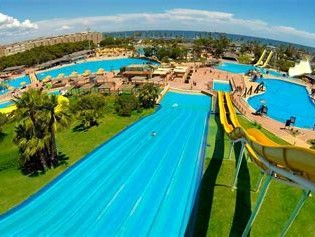 Travel
The most obvious ways to get to the Miravet region are by car or by plane.
Below you will find information and tips about these 2 possibilities
.
By car:
Coming from France, follow the route below to 43747 Miravet:
– In France take the E9 from Perpignan (F) towards Girona (Spain)
– In Spain take the AP-7 from Girona> Barcelona> Tarragona.
– Take exit 34 towards Tarragona / Reus E / Aeroport / Aeropuerto
– At the roundabout, take the 2nd exit onto the ramp to T-11 towards Reus / Aeroport
– Merge onto Autovía de Reus / Av. the Tarragona / T-11
– Continue onto the N-420- At the roundabout, take the 2nd exit and continue on the N-420
– At the roundabout, take the 3rd exit onto Ctra. Móra / the T-324
– Turn right to stay on the T-324
– Go straight on Carrer de la Creu
Google Maps: https://goo.gl/maps/YWLn3FDx2YS2 
GPS coordinates: latitude: 41.039158, , longitude: 0.597058
By plane:
The closest airports are in Reus (Tarragona) and Barcelona. Reus is located about 60 km from El Perelló and Barcelona is about 150 km away.
Flight tickets
You can easily search and book these via the websites of eg Cheapflights:
Cheapflights is a search engine for airline tickets, which shows the possibilities and prices based on several airlines, such as Ryanair, Easyjet, Jet2 and Vueling.
From the UK to Reus and Barcelona, depending on the arrival and departure date, flights are possible from Heathrow, Stansted, Luton, Gatwick, Southend, Birmingham, Manchester, among others.


Rental car
It is advisable to use a rental car from the airport to drive to and from El Perelló, but also for the trips during your holiday. You can usually book a rental car from Barcelona or Reus via the airline where you booked your flights. But of course you can also reserve a car with a car rental company. Some reputable car rental companies are:
– Sixt www.sixt.co.uk
– Avis www.avis.co.uk
– Europcar www.europcar.co.uk
– Hertz www.hertz.co.uk
– Budget www.budget.co.uk
Prices Cal Pigat
| | | | | | |
| --- | --- | --- | --- | --- | --- |
| Period | Price per night | Price per week | Min. # nights | Arrival day | Departure day |
| Jan – June | € 75 | € 525 | 2 nights | flexible | flexible |
| July – Aug | € 100 | € 700 | 4 nights | flexible | flexible |
| Sept – Dec | € 75 | € 525 | 2 nights | flexible | flexible |
Additional costs (to be paid on arrival)
Cleaning  € 50,00 per stay
Tourist tax  € 1,00 per night per adult, for max. 7 nights
Deposit  € 150,00 returned on departure when all in the house is in good order
Particularities
Bed linnen  included
Kitchen linnen  included
Bath linnen included
Arrival & Departure
Arrival as of 16:00 hrs
Departure no later than 11:00 hrs
Payment terms
Payment 1:

30% of invoice amount – to be paid at the latest 7 days after invoice date

Payment 2:

 

70% of invoice amount – to be paid at the latest 60 days before arrival
Cancellation conditions
Cancellation within 24 hours after the reservation was made:

 

no cancellation costs are applicable

Cancellation until 60 days before arrival:

 

cancellation costs are 30% of the invoice amount

Cancellation from 60 days before arrival:

 

cancellation costs are 100% of the invoice amount
Information
Do you have questions, for example about a certain house or about the area and activities?
Then you can always contact us. This can be done by email or by telephone.

Below please find our company and contact details :
123casitas
Mark & Ilse Gall
Finca La Roca Blanca
Carrer de les Oliveres 122
43519 El Perelló
Espana
Email 123casitas@live.nl
Tel.no. 0034 670 416 559
VAT no.   ES Y5101407K